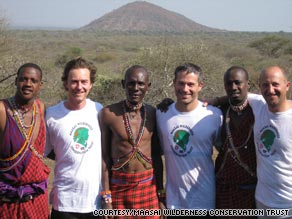 The paparazzi need to leave Tinsel Town for the weekend and focus their lenses on New York City instead. OK so New York has its own fleet of cameras tracking the celebs, but they'll need to be out in full force come Sunday's
ING New York City Marathon
. Why? Because one look at the race's roster and you'll recognize famous names from elites to age-groupers. People always say New York does things bigger and better, and well, this is definitely bigger. With a race cap of 40,000 runners, this race gets close to that number toeing the line on Staten Island (I'm convinced the lottery and race appeal helps with that). And among those 40,000 runners, you'll definitely find famous faces--like Puff Daddy/P. Diddy/Sean Combs/Diddy in 2003 and Katie Holmes in 2007. It's almost like hanging out in Hollywood. Keep your eye out for some of these names running the boroughs of New York on November 1.
Tara Costa. I was psyched months ago when Costa, a finalist on

The Biggest Loser

's seventh season, announced that she was going to run New York. Now I'm just as excited to see how well she runs--I'm hoping she beats her time from the race she ran on the show and am thinking it's a possibility since the last 26.2 only had four weeks of training and included running through the sand to finish.

Brian Boyle

. If you watched the coverage of the 2007 Ironman World Championships or the 2008 Ironman 70.3 World Championships, you'll remember Boyle as the young man in the horrific car accident who was thankful to be alive after dying on the operating table eight times. He finished both of those races as well as several others in between those championships and since, too. I can't decide what I love more about Boyle: the fact that he recently released a book sharing his story or that the New York race will be his third marathon in less than a month. He ran the marathon at the Under Armour Baltimore Running Festival on October 10, then the Marine Corps Marathon on October 25 and now New York on November 1. No wonder he's titled his book

Iron Heart

.
Ed Norton. This actor admits he's never run a marathon before, also claiming that before now he's pretty much only run as a means to something else and not just to run. Running for the Maasai Wilderness Conservation Trust, he has already raised more than $280,000.


Anthony Edwards

. The ER alum won't have to worry about a call schedule or medical emergency get in the way of his marathon dreams. But his thoughts won't drift too far from the medical field--he's raising money for shoe4africa to build the first public children's hospital in Kenya.


Alanis Morissette

. She only ran her first marathon a few weeks ago at the Bizz Johnson Trail Marathon in northern California, but she must have enjoyed the distance enough to be a late-entry into this race. Man, it's good to be a celebrity and have that opportunity. Morissette ran her first marathon to raise awareness on eating disorders and this time she joins Ed Norton and running with the Maasai warriors.


Matthew Reeve

. The name Matthew Reeve might not stand out on its own, but add Christopher and Dana Reeve to the equation and it does. Reeve is running and fundraising for the Christopher and Dana Reeve Foundation, and he'll sport bib No. 1275 to represent the 1,275 million people living with spinal cord injuries.

Peter Sagal

. The NPR voice of

Wait Wait Don't Tell Me

has made his mark on the Chicago Marathon on numerous occasions and will surely have some tales after tackling New York.

Ryan Sutter

. Famous as the guy the first

Bachelorette

Trista Rehn fell in love with, married and started a family, Sutter adds another marathon to his resume.

David Blaine

. I'm not sure if or how Blaine might bring his illusion craft to a 26.2 mile race, but it'll definitely be one sure test of endurance. He's also running for the Maasai Wilderness Conservation Trust.

Other famous names include Donal Logue, Sarah Jones, James LeGros,
Dan Jansen
, Pat LaFontaine, Brennan Swain, Ian Rosenberger, Nikolai Fraiture and Pieter Christiaan Michiel. Camera worthy? For sure, especially if you're spectating. You could get more celeb glimpses in New York than Hollywood this Sunday.
Photo grabbed from Maasai Wilderness Conservation Trust.

Posted by Kate